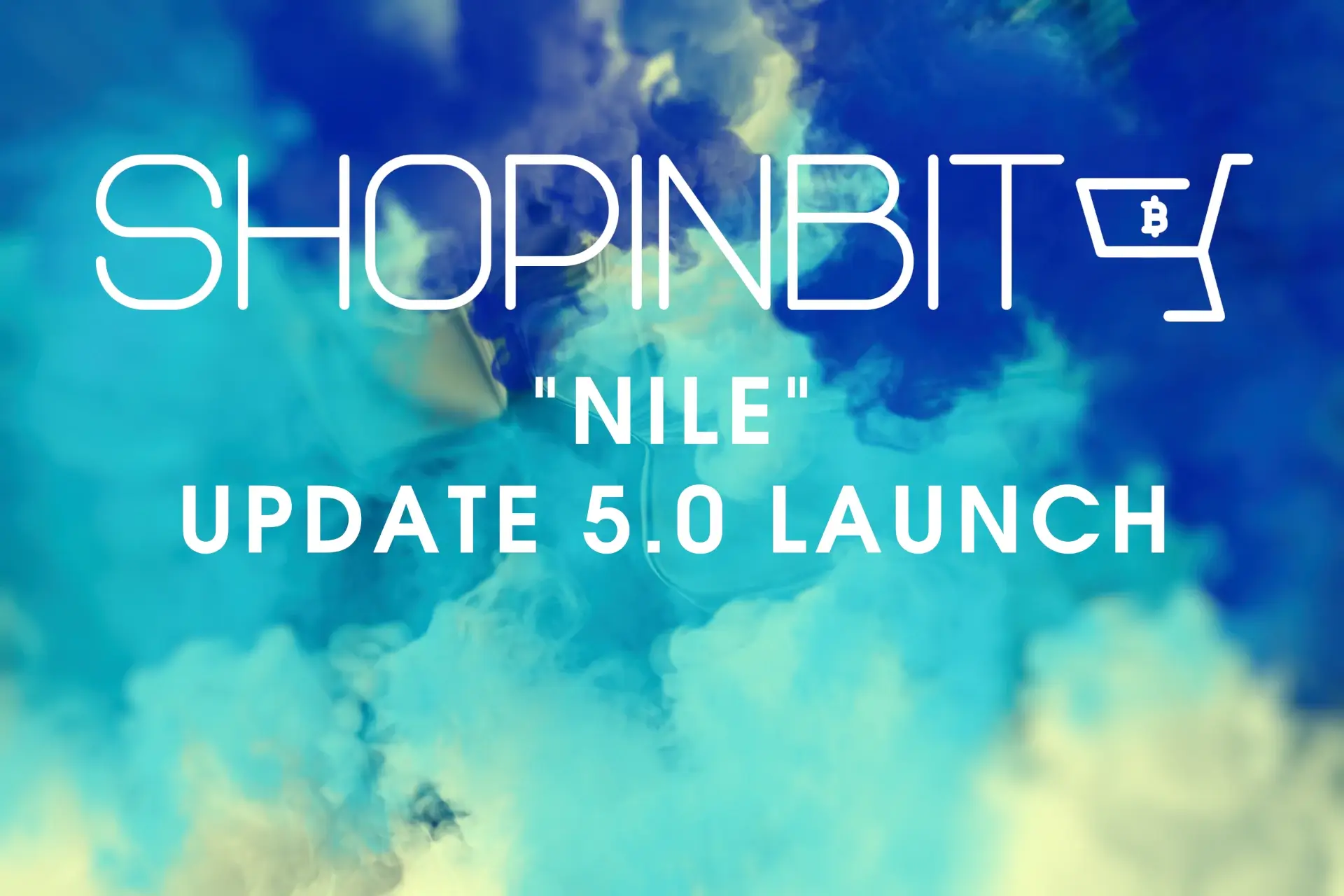 The SHOPINBIT 5.0 UPDATE "NILE"
Dear (future) Bitcoiner,

In today's digital world, online shopping has become a go-to solution for many when it comes to buying products. For privacy and Bitcoin there seems to be no real interest. But we set out to be the biggest in both of these fields: The biggest and most private Bitcoin Store of Europe.
With our 5.0 update "NILE", we are introducing exciting new features to enhance your experience. Let's dive into the new updates!
MORE PRODUCTS
Firstly, we expanded our product range with the addition of a whole new extended fashion category, taking the total number of products to over a million. You can now shop fashion and accessories for both men and women, bags and sleeves, and even backpacks. The products are divided into categories, making it easy for users to navigate and find what they are looking for without any hassles.


BETTER UX
The second update is the result of an investment we made in a new search engine, which has drastically improved the search experience on the website. The page loading times have also been significantly reduced, making the shopping experience much smoother and effortless. We also touched up on the overall design of our store.


ORDER OVERVIEW
We made it easier for you to check the status of your order by introducing an order overview page. This doesn't even require a customer account to work. You will receive a direct link to the order overview page in your order confirmation email, where you can view the progress of your order at a glance.


MAKE MONEY / STACK SATS ON SHOPINBIT
The fourth update is the launch of our partner program, where you can share your unique partner voucher code with friends and family and get paid in Bitcoin for any orders that they place.
Your voucher code gives your friends a 5€ discount on their order and works without tracking cookies!
Business customers can also get paid through SEPA.
Commissions range from 0.5% to 15%. For more information, create a (second) SHOPINBIT account, or wait for our follow up blogpost.


SUPPORT OPENSOURCE
If you don't care about making extra sats, but want to support open source development, we prepared some Voucher codes for you which will also give you a 5€ discount on your first order:
BTCPAY = Supports our friends at BTCPayserver who make accepting Bitcoin possible without any middlemen
GRAPHENEOS = Make smartphones private again and support the hard working developers of the privacy enhancing mobile OS
OPENSATS = Supports all projects under the Opensats sun. For those who can't decide who to support.
More will be added in the future so stay on the lookout for a dedicated page that's coming this week.


OI, GRÜZI, HELLO THERE, SALUT
We also expanded our reach with shipping now available to Switzerland, United Kingdom, USA, and Canada. However, users must check the custom regulations of their respective countries as import taxes/restrictions may apply, since we are exporting them out of the EU.


BITCOIN (CIRCULAR) ECONOMY
Finally, we are introducing new Bitcoin Economy partners, including
FULMO of RaspiBlitz Fame with their prebuilt Lightning nodes
21ENERGY who are bringing the (mining) heat to your living room
and SATOSHI SOLAR, which is our first very own product range of ultra-lightweight, foldable solar panels!
The update "NILE" reflects our commitment to continually enhancing your user experience and privacy. With the expansion of our product range, an improved search engine, order overview pages, the partner program, shipping to more countries, and new Bitcoin Economy partners, we continue to make online shopping with Bitcoin much more comfortable and more convenient.
In the name of my Team, I would like to thank you personally for supporting our business over the last almost 5 years and being patient with us as we keep on expanding our offerings. There is even more to come in the next week so stay tuned for more fun.
Best Regards
Lando Rothbardian
CEO of SHOPINBIT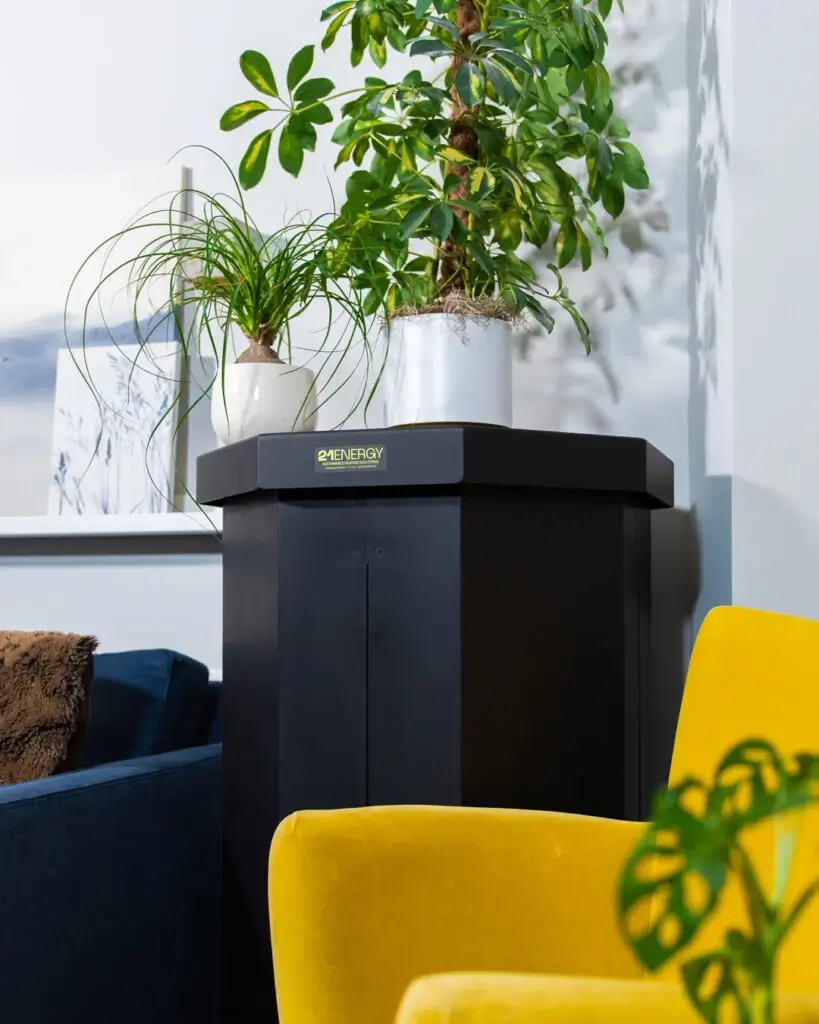 Bitcoin Heater S19 Pro
Bitcoin Heater S19 Pro: Unlock the Power of Mining and Heating Combined!Experience the ultimate solution for mining and heating with our Bitcoin Heater S19 Pro. Powered by the Antminer S19, this innovative device reaches a staggering 120 TH while consuming just 3,000 watts. With an incredible efficiency of up to 25 J/TH, you'll maximize your mining potential like never before.But that's not all - the Bitcoin Heater S19 Pro offers more than just mining power. Its advanced design ensures whisper-quiet operation, emitting only around 45 dB at 1.7 kW. We've even tripled the number of high-performance fans, providing optimal cooling without compromising on noise levels.Say goodbye to dust-related issues. Our Bitcoin Heater features air, dust, and acoustic filters on two levels, safeguarding your Antminer S19 from unwanted particles. Plus, it's easily accessible for cleaning and maintenance.Not only will you enjoy lucrative Bitcoin mining, but you'll also save on heating costs. Take advantage of our profitability calculator at https://21energy.io/rentabilitaetsrechner/ to see just how much you can save on your energy bills.With the Braiins OS+ operating system, you'll experience increased efficiency of up to 20%. That means more cash flow and hashrate with the same power consumption. It's like putting money in your pocket while mining.The Bitcoin Heater S19 Pro isn't just powerful; it's stylish too. With its sleek octagonal design, made from durable galvanized sheet metal, it adds a touch of modern elegance to any space.We prioritize safety and quality. Our product is CE compliant and approved for the entire EU. The galvanized sheet metal construction is built to last, ensuring long-lasting use without corrosion concerns.Setting up the Bitcoin Heater S19 Pro is a breeze. With plug-and-play functionality, LAN and WLAN connectivity, and pre-configured settings, you'll be up and running in no time.Join the movement towards sustainable heating. Our Bitcoin Heater S19 Pro can save up to 9 tons of CO2 emissions per year compared to traditional energy sources. Make an eco-conscious choice without compromising on performance.Proudly developed in Austria, the 21ENERGY Bitcoin Heater S19 Pro combines Austrian craftsmanship with cutting-edge technology. Each component is carefully assembled in Tyrol, ensuring the highest standards of quality.Don't miss out on this game-changing mining and heating solution. Upgrade your mining setup and stay warm with the remarkable Bitcoin Heater S19 Pro. Order yours today and unleash the power of combined functionality.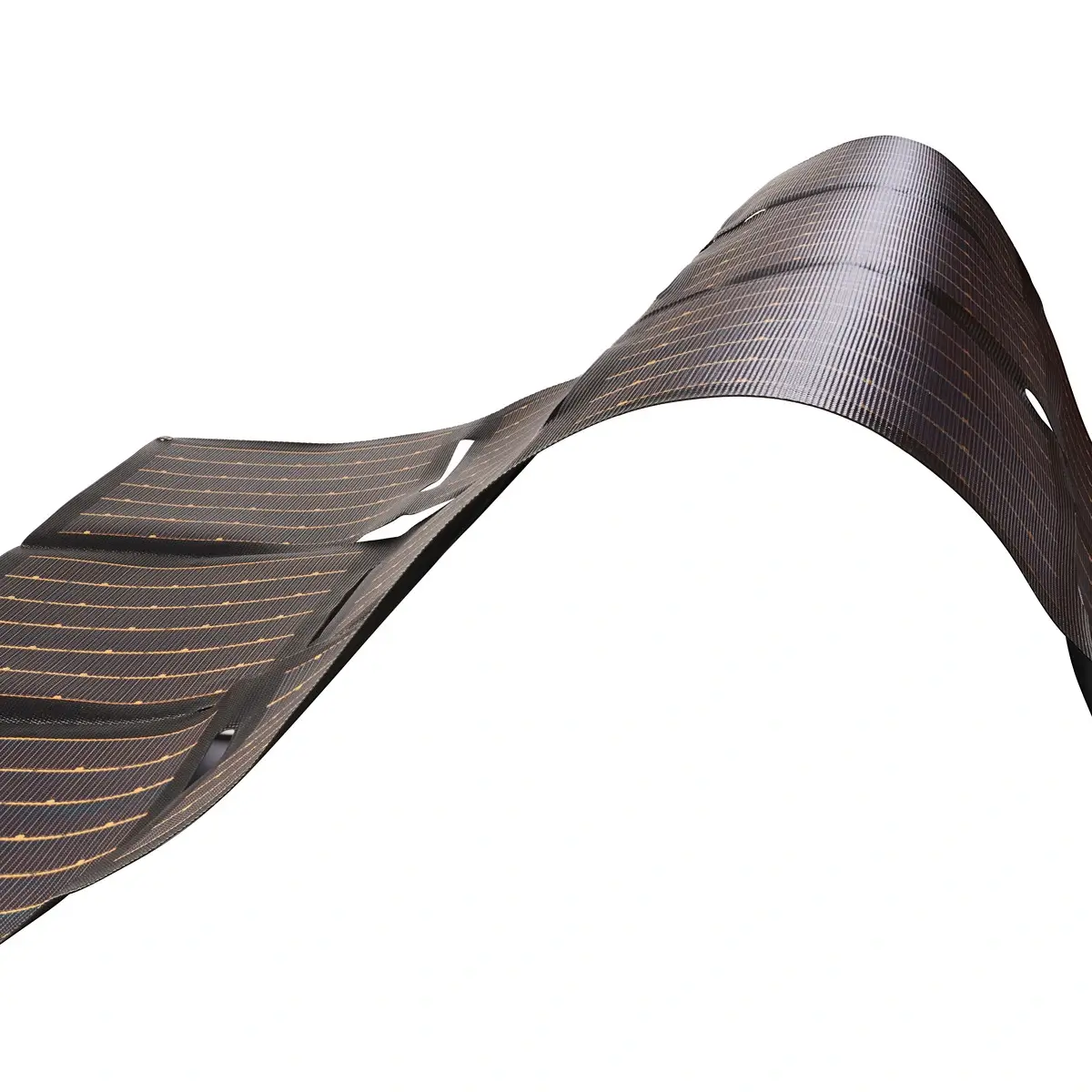 Satoshi Solar Model Gossamer UL Solar Panel
MODEL GOSSAMER UL: The Ultimate Freedom to Move The Gossamer UL model is the lightest portable solar panel in the world, offering you the ultimate freedom to move. It's delicate, so treat it gently, and it will give you the power you need to stay connected wherever you go. Specifications Model SL Model Gossamer UL Model UL Model CL Weight 1.472 kg 1.062 kg 1.128 kg 3.805 kg Power Output 97W 100W 100W 117W Sunny weather performance Excellent Excellent Excellent Excellent Cloudy weather / low light performance Good Good Good Excellent Toughness ★★★ ★ ★★ ★★★★ Rain proof* ✅ ❌ ❌ ✅ Limited Edition ❌ ✅ ✅ ❌ Smart power routing** ✅ ❌ ✅ ✅ Size (folded) 30x25x4cm 32x25x5cm 32x25x5cm 39x28x5cm Size (unfolded) 90x98xm 95x101cm 95x101cm 182x115cm *USB Charging Electronics are NOT rainproof. Always keep USB Electronics dry.**If one solar cell stops producing energy due to shade or damage, the panel will try to maintain perfomance of the others. Experience the Lightest Solar Panels in the World from Satoshi Solar Introducing our Satoshi Solar panels - the lightest solar panels on the planet that produce more watts per gram of weight than any other panel. They're designed for maximum power with minimum weight, making them perfect for travelers and adventurers who don't want to be weighed down.No matter which model you choose, our panels are built to last and easy to use with your existing equipment, thanks to standard connectors. Plus, they're discreet and easy to store or hang in position. And if anything goes wrong, we've got you covered with our experienced warehouse staff and commitment to customer service. So why wait? Choose your model and experience the power of the lightest solar panels in the world.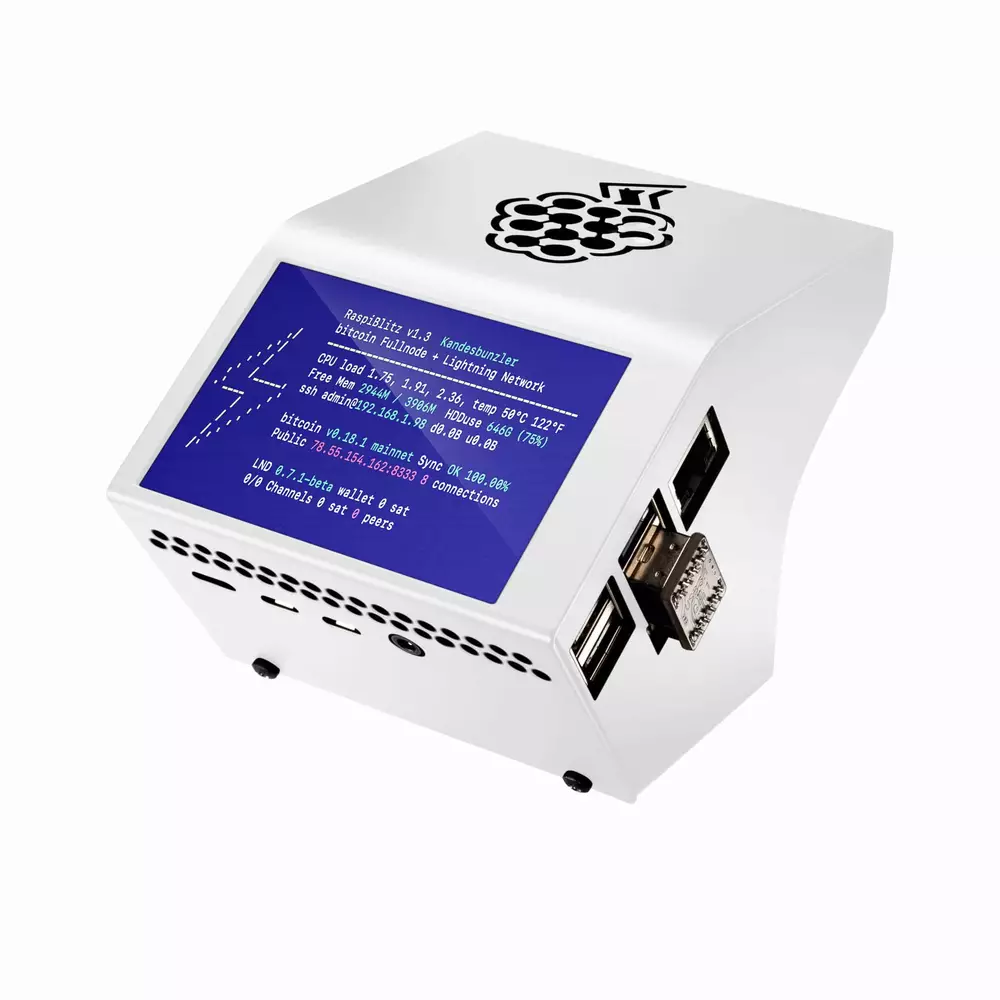 RaspiBlitz v1.10 – Metal Case 8GB RAM
Introducing the RaspiBlitz v1.9 – Metal Case 8GB RAM: the ultimate solution for running your own Bitcoin and Lightning Node.This is the complete pre-assembled RaspiBlitz Node. You just plug it in and configure it. It includes:Raspberry PI4 8GB RAM1TB SSD1 SD-Card 32GB pre-installed with RaspiBlitzCustom RaspiBlitz Metal Case with LCD Touchscreen1m Ethernet Cable Every sale of FULMO products supports the development of RaspiBlitz.With this secure and cost-effective routing node, you can earn BTC while contributing to the network by routing payments. Just like early Bitcoin mining, every payment you route with your RaspiBlitz earns you a fraction of the payment as a routing reward.Unlike other nodes, the RaspiBlitz prioritizes security by avoiding the use of Docker or insecure JavaScript libraries. Plus, with upcoming features like Lightning Pool, you'll be able to earn Satoshis by providing liquidity to the Lightning Network.To get started, all you need is a free Ethernet port on your router/switch, a free electrical socket, and access to your local router. With the RaspiBlitz, you'll have the safest and most affordable way to run your own Bitcoin and Lightning Node, giving you the bragging rights of having built your own bank.Developed by the legendary Christian Rotzoll (@rootzoll), the RaspiBlitz comes with a customized open-source operating system and a comprehensive user manual, making it easy to set up even if you only have basic technical knowledge. No rocket science required! Just a basic understanding of terminal usage will suffice.With our pre-assembled RaspiBlitz, you can start routing payments through the Lightning Network and even set your own fee policy. It's a rewarding experience that will leave you feeling proud of creating and assembling your very own bank, ready to serve your friends and family. Join the fast-growing Bitcoin Lightning Network and get started with the DIY Node RaspiBlitz – the perfect solution for running your own node and connecting to the exciting world of decentralized finance.Requirements:A free Ethernet port on your router/switchA free electrical socket Windows, Linux or Mac OSAccess to your local router Software preinstallation:Bitcoin-Core (Bitcoin Fullnode)LND and/or C-LightningRTL (GraphicUserInterface to config your Node)OpenSource Operating Systempre-synchronised Bitcoin Blockchain (optional)Further services installed to switch on:TOR (Run as Hidden Service)ElectRS (Electrum Server in Rust)BTCPayServer (Cryptocurrency Payment Processor)BTC-RPC-Explorer (Bitcoin Blockchain Explorer)LNbits (Lightning wallet/accounts System)SpecterDesktop (Multisig Trezor, Ledger, COLDCARDwallet & Specter-DIY)LNDmanage (Advanced Channel Management CLI)Loop (Submarine Swaps Service)Pool (Inbound Liquidity Marketplace)JoinMarket (CoinJoin Service)ThunderHub (Lightning Node Manager WebUI)Faraday (Channel Analysis & Recommendations CLI)Balance Of Satoshis (Commands for working with LND balances)Kindle Display (Bitcoin Status Display made with a jailbroken Kindle)Stacking Sats Kraken (Auto-DCA script)Circuit Breaker (Lighthing Channel Firewall)PyBlock (Python Util & Fun Scripts)Mempool Explorer details Sphinx Relay ServerTelegraf metrics details Chantools (Fund Rescue)Suez (Channel Visualization for LND & CL)Helipad (Podcasting 2.0 Boostagram reader)CL Spark Wallet (WalletUI with BOLT12 offers)CL plugin: Sparko (WalletUI & HTTP-RPC bridge)CL plugin: CLBOSS (Automated Node Manager)Tallycoin Connect (Use Tallycoin with your own node)You can connect the following Wallet-Apps to your RaspiBlitz:Zap (Android, iOS & Desktop)Zeus (Android & iOS-TestFlight)Shango (Android & iOS-TestFlight)Fully Noded (iOS)SendMany (Android)Sphinx Chat App (Android & iOS)Also much more features like Touchscreen, Autopilot, DynDNS, SSH-Tunneling, UPS Support, …With the new Raspberry Pi 4 you can download and validate the blockchain within 4-6 days on your own. Or you choose to buy a RaspiBlitz with a presynched blockchain.